The
KitchenAid Ultra Power Stand Mixer
is a small step above the
KitchenAid K45SS Classic 250 Watts Stand Mixer
.
Instead of the K45SS's 250 Watts motor, the KitchenAid Ultra Power Stand Mixer (KSM100PSWW) has a
300 Watt
motor. Although the bowl is the same
4-1/2 quart
size, the KSM100PSWWT has an ergonomic handle and a Pouring Shield to keep the ingredients IN the bowl instead of splattering onto the surrounding areas. The bowl is dishwasher safe, but Kitchen Aid recommends the burnished accessories be hand-washed to avoid discoloration.
This Kitchen Aid Stand Mixer has
10 speeds
accessed by a convenient sliding control. Every area in the mixing bowl is reached by the beaters due to KitchenAid's 67-point
planetary mixing
action. Three accessories are included: a burnished dough hook, a burnished flat beater, and a stainless steel wire whip.
Get more information and see the
KitchenAid Ultra Power Stand Mixer
in action!
The KitchenAid Ultra Power Stand Mixer (KSM100PSWW) Features:
Capacity: 4-1/2 Quarts
Motor: 300 Watts; All-metal construction
Handles up to 8 cups of all-purpose flour
Accessories: Burnished "C" Dough Hook, Burnished Flat Beater, Stainless Steel Wire Whip, Pouring Shield (available from Amazon)
Tilt Head Design
Several Attachments Available
Several Colors Available
Suggested Retail Price: $309.99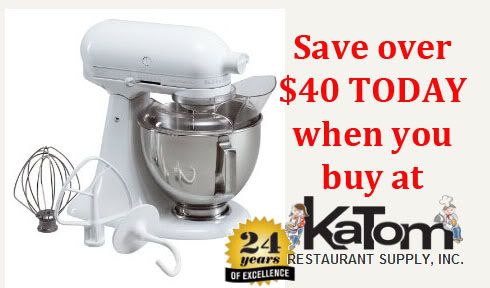 Note: A larger wattage motor is desirable if you bake homemade bread since kneading requires a lot of power.
Need more help? Compare KitchenAid Stand Mixers